The Innovative Dental Tech That's Helping Patients At Home Through the Pandemic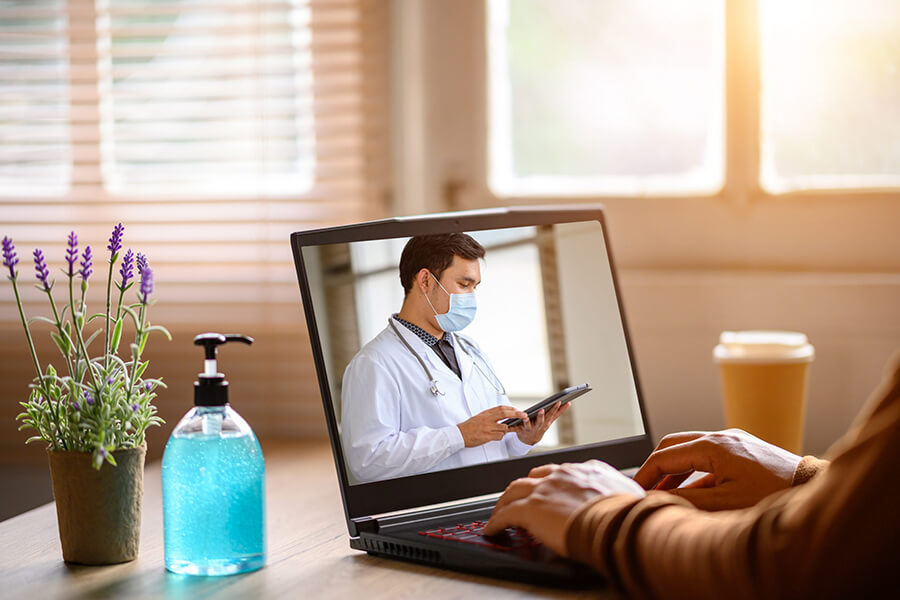 The "safer at home" message looks set to continue for some time, and even as some kind of normality starts to resume, dentistry is one of the areas that has been hit particularly hard by the COVID-19 pandemic. Increased personal protective equipment (PPE) costs and more thinly spaced appointments are having a significant impact on financial viability; not to mention making it more difficult for patients to access routine preventative care.
But while dental practices find their feet again and start working through a backlog of patients needing urgent treatment, certain technological advances are making it possible for patients to access some level of care from home.
Teledentistry
The development of telehealth was already well underway before the pandemic hit, but the sudden need for social distancing acted as a launchpad for remote care solutions. Providing multifaceted benefits, they have afforded an extra level of protection to healthcare workers and patients alike. Dentists and practices have had their eyes opened to the opportunities that teledentistry presents.
When it comes to dental care, teledentistry is helping providers to triage patients, follow up on treatments, and even offer consultations for certain procedures. Patients interested in orthodontic work or veneers, for example, can receive a provisional treatment plan without having to leave their homes. This technology is also making dentistry more accessible to those who may not be able – or willing – to visit a dentist in person. Patients in care homes, those with limited access to medical facilities, and those who are apprehensive of sitting in a dentist's chair are now benefiting from remote dental assessments.
While digital solutions will never be able to replace regular teeth cleaning and necessary restorative treatments, they can certainly help ease pressure on clinics and keep patients connected when "business as usual" is not possible.
Remote Orthodontics
One type of treatment that is successfully being conducted remotely is teeth straightening using clear aligners. A growing number of companies are eliminating in-office visits by planning treatments digitally and using remote monitoring software that lets patients check in virtually with their orthodontist. Patients can even take their own teeth impressions from home, meaning the entire treatment course is completed without stepping foot in a dentist's office.
And it's not just at-home aligner companies who are using this kind of dental monitoring software; plenty of dental clinics are using it to check the progress of their patients' orthodontic treatment and alert them when it's time to come for an adjustment. This can make the whole treatment process more efficient, cutting treatment time and reducing the number of in-office visits needed.
Self-Monitoring
While dental clinics are forced to prioritize patients by treatment urgency, many worry that preventative care is being neglected. Not only have millions of patients missed a routine appointment during the months of lockdown; they are now struggling to schedule a new one. A rush in demand combined with a forced reduction in scheduling for many clinics means that non-urgent appointments are few and far between in some places.
For those worried about their oral health deteriorating during this time, self-monitoring apps may provide some reassurance. With daily reminders to brush and clean interdentally, as well as regular checks for signs of gum disease and oral cancer, patients can learn better oral hygiene habits and become more aware of their mouth health.
Tools like this are also helpful for carers who are responsible for their patients' oral hygiene. An app can flag any warning signs so the patient can receive appropriate care before the condition worsens.
Final Thoughts
Everyone is keen to see businesses returning to a strong financial position and patients able to access the care they need – whether urgent or preventative. But in the meantime, it's encouraging to see how dental technology is helping to bridge the gap between dental professionals and their patients.
As innovation continues, it's like that teledentistry will be more widely adapted as a matter of choice, rather than necessity.
https://flexcare.com/wp-content/uploads/2021/05/The-Innovative-Dental-Tech-Thats-Helping-Patients-At-Home-Through-the-Pandemic.jpg
600
900
m16Dev
https://flexcare.com/wp-content/uploads/2020/12/FlexCare-Logo.png
m16Dev
2021-05-05 04:25:27
2021-05-06 05:02:42
The Innovative Dental Tech That's Helping Patients At Home Through the Pandemic